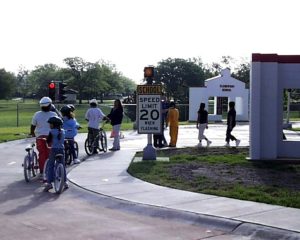 Safety City is a 2-1/2 acre miniature city complete with traffic signals, crosswalks and small-sized automobiles used to teach traffic safety techniques to children. It simulates a real traffic environment featuring many of the safety hazards children encounter daily. Safety City serves over 6,000 public school students each year. The hands-on approach offered at Safety City results in a better understanding of the traffic environment and its dangers. Recently, Safety City has expanded its program to include seat belt education and hosting on-site Safety Fairs that attract area hospitals and safety organizations.  
Safety City was a project initiated by the Junior League of Lubbock  in 1991 to address the need to educate children about traffic safety.  The City of Lubbock made a substantial contribution to the project with its donation of the site as well as staff support through the Department of Parks and Recreation. The Lubbock Independent School District prepared the curriculum for Safety City. The members of the Lubbock Chapter of American Institute of Architects designed the course and the adjacent classroom.
More children die from accidents than from any other cause. Each year, Approximately 250,000 youngsters are injured nationwide, and approximately 2,000 die from these injuries.. Almost half of all traffic fatalities involve children between the ages of one and 15. Most of these accidents could be avoided if children were more aware of traffic safety measures.
This program benefits all citizens of our community by producing safety-conscious children. The more aware children become of safety measures, the less likely they are to be involved in a traffic accident. These measures include things like wearing their seatbelt, understanding the rules for pedestrian traffic, as well as understanding and practicing bicycle safety.  Safety City provides an environment for children to learn and practice these skills.
Safety City continues to be supported by many other businesses, civic groups, PTAs and concerned citizens. For information on how you and your business can become a sponsor — call Safety City at 767-2712!

Where is Safety City Located?
Safety City is operated by the City of Lubbock Parks and Recreation Department and is located at 42nd and Avenue U inside Clapp Park.
Click here for more information on Safety City.