Message From The President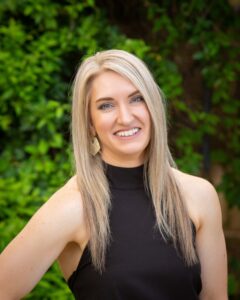 Friends of the League
On behalf of the entire Junior League of Lubbock, I am delighted to extend a warm welcome to each and every one of you.  It is with great joy and anticipation that I begin my term as the President of this esteemed nonprofit organization, dedicated to empowering and improving the lives of those in our community.
As we embark on this exciting journey together, I would like to express my gratitude for the tremendous support and unwavering commitment you have shown to the Junior League of Lubbock.  Our organization's rich history and legacy of service would not be possible without the dedication of our members, volunteers, and community partners like you.  As the Junior League of Lubbock, we firmly believe in the power of women to effect meaningful change.  Our collective efforts have contributed to countless impactful initiatives over the years, spanning areas such as education, health and poverty alleviation.  By investing our time, talents and resources, we have made a profound difference in the lives of individuals and families in need.
Looking ahead, I am excited about the prospects and opportunities that lie before us.  Our focus remains centered on supporting and empowering women, fostering leadership development, and addressing the critical needs of our community.  Together we will continue to to advocate for positive social change, pursue innovative projects and collaborate with community partners to make Lubbock an even better place to live.
In the coming months, you can expect a vibrant calendar of events engaging volunteer opportunities, and enriching training programs designed to equip our members with skills and knowledge necessary to make a lasting impact.  Your involvement and participation are vital as we strive to create positive change, and I encourage you to explore the various ways you can contribute to our mission.
I extend my heartfelt appreciation to the dedicated members of the Junior League of Lubbock and our exceptional Board of Directors for their tireless efforts and unwavering commitment.  Together, we will build upon our past successes and forge ahead with renewed vigor and determination.
I am honored to lead this incredible organization and serve alongside such remarkable individuals.  I invite you to join us in our journey towards a brighter future, as we continue to inspire, empower and uplift the lives of those we touch.
Thank you for your ongoing support and dedication.  Together, we will make a lasting difference.
Yours In Service,
Lauren Maclaskey
President, 2023-2024
president@jllubbock.com