Family Guidance and Outreach Center of Lubbock
They bring us the sound of laughter. They have smiles that reach past the problems of today. They remind us to believe in tomorrow. Innocence is often lost by many children when we as adults let pain and abuse enter their lives. Family Guidance and Outreach Center of Lubbock's mission is to prevent the abuse and neglect of children by providing friendship, support, guidance, life skills, role modeling and education to families who want to be a better parent and develop healthy parenting skills.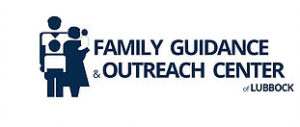 In response to the increasing number of child abuse and neglect cases being reported in our area, Family Outreach Center of Lubbock, Inc. opened its doors in May 1981. Since then, hundreds of families have been helped through the assistance of caring volunteers working one-on-one or through special programs benefiting children and parents. The Center has been so well received by families that a majority of the referrals come from the parents themselves, asking for help with their children and families. In addition, the Center has Shaken Baby Syndrome Education/Prevention program that reaches more then 3,000 adults and children yearly. The education/mentoring program to pregnant teens in New Directions of Lubbock Independent School District is providing services to approximately 80 young women each year. Family Guidance Center also offers free parenting classes to the community. The Center also provides monthly support groups for the families and care groups for the children.
The Junior League of Lubbock was one of the four original sponsoring organizations and contributed $5,000 to help begin operation in the Lubbock community. Financial and volunteer support has continued through the years. In 1992-1994, the League contributed $42,600 allowing the Center to relocate to a larger facility. In 2002, the Center received $1,500 to purchase baby rattles for our shaken baby syndrome program.
Ove the past 25 years, the size and scope of the center has grown, but the philosophy has remained the same. Helping build strong families is the Center's goal. Family Guidance and Outreach Center continues everyday to accomplish its mission, to prevent the abuse and neglect of children. "It Shouldn't Hurt To Be A Child."
Click here for more information on Family Guidance and Outreach Center of Lubbock