Barton House at the Ranching Heritage Center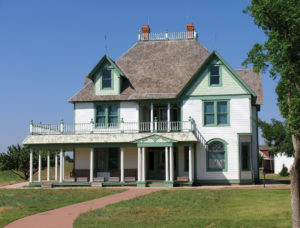 In 1971, the Junior League of Lubbock pledged funding support to initiate the Ranch Headquarters Association of the Museum of Texas Tech, now known as the National Ranching Heritage Center.  As part of its mission to preserve the history and heritage, of ranching, this unique museum presents more than 20 historic ranch buildings from the West Texas region, which have been restored in detail, and serve as a living museum to the typical activities of pioneer ranching.
The Junior League of Lubbock participated with the Museum in the early 1970s to research the historic details for finding the 19th-century house that was to be the focal point for the Museum, and for preparing that house with historical accuracy to the period.  That house was The Barton House, originally the home built by Joseph James Barton for his family about 19 miles north of Lubbock.  The history of this home and its move from its original site to the National Ranching Heritage Museum can be found on the Museum's website.