Sustainer of the Year Winners
2017-2018 Winner
Sharon Bass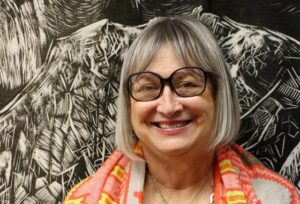 The 2017-2018 Sustainer of the Year Award was presented to Sharon Bass because of her overwhelming passion for voluntarism. As a past president of the Junior League of Lubbock, Sharon has always had a passion for the League and the service it provides to the community.
Over the years, Sharon has received much recognition for her service to the Lubbock community, including: the YWCA Woman of Excellence Award; the Association of Fundraising Professionals Outstanding Fundraising Professional Award; the Association for Women in Communications Mahon Award for Extraordinary Public Service; and, the United Way Rita Harmon Volunteer Service Award. Sharon has served as Executive Direct of the Volunteer Center of Lubbock for the past 15 years and currently serves on the Executive Committee and Board of Directors for the Lubbock Chamber of Commerce.
Sharon, we thank you for your continued support of the Junior League of Lubbock, your leadership within the Lubbock community, and your willingness to serve.
Past Winners
| | |
| --- | --- |
| Kathy Treadway Britton | 2016-2017 |
| Gayle Bailey Morris | 2015-2016 |
| Leslie Luecke Moss | 2014-2015 |
| Debby Lewis Hansard | 2013-2014 |
| Dodie Durham Northcutt | 2012-2013 |
| Stephanie Maddox Fox | 2011-2012 |
| Deborah Greene Finlayson | 2010-2011 |
| Carolyn Byrd Simpson | 2009-2010 |
| Kathy Treadway Britton | 2008-2009 |
| Sherry Crutchfield Allen | 2007-2008 |
| Donna Becknell Chandler | 2006-2007 |
| Brenda Becknell | 2005-2006 |
| Sandra Magee Hester | 2004-2005 |
| Dorothy Brown Pickering | 2003-2004 |
| Cindy Lambeth McCuistion | 2002-2003 |
| Martha Crow York | 2001-2002 |
| Celeste Pruitt Thompson | 2000-2001 |
| Suzie Sterling King | 1999-2000 |
| Brenda Becknell | 1998-1999 |
| Cathy Spoonts Porter | 1997-1998 |
| Janeen Drew Holmes | 1996-1997 |
| Claudette Hill Culp | 1995-1996 |
| Jana Cannon Jones | 1994-1995 |
| Karen Goodrich Worley | 1993-1994 |
| Judi Gamble Blakey | 1992-1993 |
| Kay Holder Sanford | 1991-1992 |
| Linda Schuster Greenstreet | 1990-1991 |
| Helen Wilson Holley | 1990-1991 |