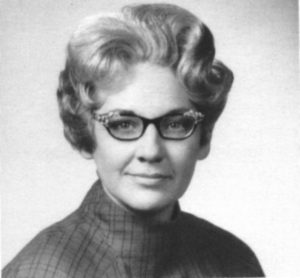 Pat Smith Moore was a smart, stern, gentle, and concerned parent, friend and district court judge! She was not fond of groups or organizations that would not be change agents. Groups that know of the problems but fail to take action designed to change the situation. She truly respected the Junior League for the actions it took to improve the community.
She had a childhood which was not like those of today. She was a victim of Polio. Hers was a very bad case and it left her extremely crippled. She walked only with the use of leg braces and canes. However, she would have NEVER thought of herself as a victim or even handicapped. She would say, "How can I be handicapped if I have graduated from college and law school, practiced law, been elected county court of law judge and then elected to district judge!"
As a child she spent many of her summers at Scottish Rite Hospital in Dallas. Instead of being sad about this, she always considered these summer stays as a source of new friends and an opportunity to meet a lot of celebrities. Stars of stage, screen, television and radio visited Scottish Rite and spent time with the children.
She believed that women had the right to equal education and employment. Pat was the only woman in her law school graduating class. She was one of a handful of female judges around the state in a time when people, including women, did not vote for women as it was seen as not "their place". But Pat did not let that stop her either!
As a judge, Pat saw far too many youths who did not need jail, but who also did not need to return to their homes where crime was a way of life and abuse was considered normal. So, she set a date, sent invitations and presided over a meeting where she told those in attendance they would find land, raise the money, get a license and open a boys ranch where juvenile males of Lubbock and surrounding counties could live rather than return from the court room to their unsafe, unsupervised, and unlawful homes.
All of her directives were accomplished, plus county commissioners agreed to pave a road leading to the ranch. For years Texas Boys Ranch was a non-profit corporation and has recently been acquired by Children's Home of Lubbock and is now part of that program.
Pat Moore was also a devoted parent. She went to the sports events for both her daughter, Linda, and her son, Phillip. Linda rode horses in competition and also played tennis. Pat would drive her car (remember this is a women who was crippled with polio) to these events pulling the horse trailer – many times at great distances. James, Pat's husband, was also an attorney.  He, too, was very involved in the children's lives and totally supported Pat in all that she did.
"To whom much has been given, much is expected." Pat truly believed this. She truly believed that she had been given much!
The Pat S. Moore Award was created in 1974, before her death from cancer. The award is not intended to be a woman of the year type award, but instead a more unique recognition for a unique woman who has achieved and overcome.
Upon being given this honor at the 1974 May Annual Meeting, Pat stated that this was the highest honor she could receive: to be honored by an organization which she believed in because it has the integrity, compassion, and courage to establish programs and projects which research has proved to be community needs… programs and projects with the promise of becoming self sustaining or a community project.
When you look at Pat's photograph you can see that she was an attractive woman. Her outlook and accomplishments were trail blazing with a pioneer spirit. Imagine what it must have been like to attend law school as the only woman – maybe one other woman – in heavy leg braces and canes to get around. And imagine what it must have been like to run four county courts at law and to serve as district judge in a man's world!
There will never be another Pat Moore because she opened doors through which women and volunteers now travel. The legacy she has left us is to pursue causes intelligently and completely; overcome prejudices and hardships of all types; to improve what needs improving, change what needs changing, and to open doors which need opening!
Information provided by Virginia Brackett. Thank you, Virginia, for speaking at the 2006 May Luncheon and giving us a full picture of this wonderful woman.