2020 Partner Card On Sale Soon! Shop with a discount April 1-20, 2020!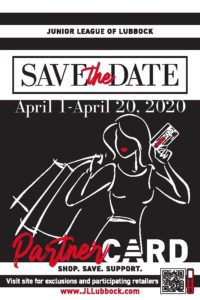 In 2016, the Junior League of Lubbock started the Partner Card project with a $30 card carrying a 20% discount at 25 local retailers for two weeks. During the next two years, the 20% discount remained, but the number of participating vendors more than doubled and diversified, the price lowered to $20 and the time lengthened.
Here is how it works:
With the purchase of a Partner Card, you receive a 20% discount* at each of the participating merchants. *Some exclusions apply.
Discounts are only for the Partner Card promotional period, April 1 – April 20, 2020, and do not pertain to prior sales.
Merchandise cannot be held in advance for purchase during the Partner Card promotional period.
Cards must be signed on the back and are non-transferable and non-refundable.
The Junior League of Lubbock is not responsible for lost or stolen Partner Cards.
The $20 minimum donation for your Partner Card goes directly to the Junior League of Lubbock.
Please thank the participating merchants for partnering with the Junior League of Lubbock for this event. This discount is their gift to you.
Shop local to support our community!
A list of participating merchants will be posted soon – stay tuned!